Aluma-Tough Tags are an Asset to the Transportation Industry
The transportation industry encompasses a massive range of vehicles, aircraft, ships and systems, all of which have specific needs for durable, long-lasting ID tags.
Aluma-Tough anodized aluminum tags are standard practice to ensure that important information remains legible or scannable even in the harshest conditions.
The primary reasons for such heavy reliance on aluminum tags and name plates are simple: durability, resolution, cost, and sustainability.
Let's look at each of these factors in more detail.
Durability
The Aluma-Tough process creates sapphire hard, anodized aluminum plates that can withstand extreme heat, chemicals, abrasion, salt corrosion, sun and weather, impact, and beyond. This style of tag is among the most damage resistant materials available, out-scoring alternatives in extreme test conditions of all kinds.
Whether transportation industry vehicles are automotive, marine, or aircraft, Aluma-Tough tags stand up to the harsh conditions presented in each sector of the industry. This means that tags stay legible, properly affixed, and serve their intended purposes for years without replacement or repair.
Aluma-Tough vs. Stainless Steel with Saltwater Corrosion
Cost
Unlike stainless steel etching or other labor-intensive ways of making name plates and tags, Aluma-Tough only requires a few steps, handled almost entirely by machines, and can be operated by a single person. With the right equipment investment, production can even happen on site!
The process is less labor intensive than the alternatives, with materials that often cost less, and allows for small quantities without drastically increasing per unit price.
All of this translates to typical costs of 10-20% less than the most popular etched stainless steel options.
Proper identification and tracking can also save tremendous costs in the field, from reducing issues with trailer location tracking to providing important safety information that reduces injuries and delays. In some instances, undamaged, easily readable tags can protect against regulatory fines.
Aluma-Tough Tags are Recyclable!
More Case Studies on Aluma-Tough Tags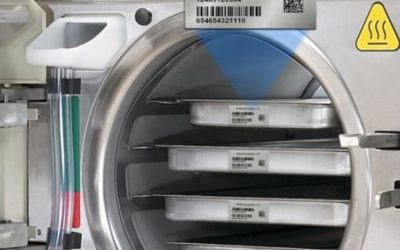 Medical Device Tags Withstand Repeated SterilizationHealthcare providers label and identify property and processes in order to keep track of inventory, communicate hospital procedures and manage recalls. Medical devices or equipment that must undergo sterilization or...