Beautiful Photography Prints on Aluma-Tough Metal
The uses for Aluma-Tough, sealed anodized aluminum signs are numerous, and also include amazing, high-resolution photographs!
Although Aluma-Tough is commonly used for industrial applications, such as control panels, VIN tags, wiring diagrams, and more, the advantages of their durability and high-resolution also deliver the the ability to create custom designs.
These very same features went into the creation of a unique idea for Aluma-Tough technology: beautiful photography prints!
High-Detail Photographs Printed on Metal
During the renovation process of Cleveland's historic Fairmont Creamery Building, one of the tenants-to-be was Tremont Athletic Club owner Nick White. He wanted to pay tribute to the building's rich history as a Cleveland landmark, and decided to commission photography prints of the building before restoration, all the way back to the 1940s. These photo prints were meant to give the members of his gym a glimpse into what the space once was, and to provide inspiration for transformation.
Initially, the images were created using a sublimation process. This method of transferring an image onto a metal plaque with special ink and a heat press, however, yielded less than ideal results. The images themselves lost a great deal of resolution and detail, and after just three years of use, the thin metal required by the sublimation method was bent and damaged from daily foot traffic. If Nick wanted to continue to share the building's history, the plaques needed to be replaced, and he'd learned a valuable lesson about the quality and durability of the sublimation-made prints.
Fortunately, a few members of his gym worked with anodized aluminum signage, and the idea to use Aluma-Tough technology for the photography prints was born!
Sapphire-hard, high resolution aluminum plaques checked all of the boxes!
The true photographic exposure of the images retains all of the detail and resolution of the original, improving on the detail of the original signage, and better telling the story of the Fairmont Creamery Building's past.
Additionally, Aluma-Tough technology allows for ten gauges of thickness, from 0.003" foil to 0.125" plates. The option for thicker plaques meant that they wouldn't be bent or damaged from accidentally snagged clothing, gym bags, and the like.
Last, but of no small consequence to the modern aesthetic of the Tremont Athletic Club, aluminum photograph prints provide a modern, elegant look – and don't have any of the glossy, plastic look that the previously used sublimation process creates.
More Case Studies on Aluma-Tough Tags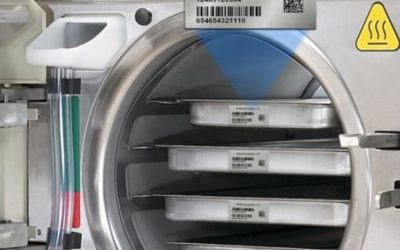 Medical Device Tags Withstand Repeated SterilizationHealthcare providers label and identify property and processes in order to keep track of inventory, communicate hospital procedures and manage recalls. Medical devices or equipment that must undergo sterilization or...